IDX Facebook
Real estate agents are the best in a person-to-person offline marketing environment, getting to know clients on a personal level, connecting with local markets, and getting involved in the community.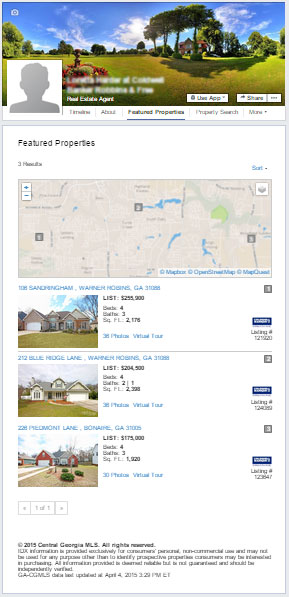 The same qualities can be applied to Social Media. Our IDX Facebook Plugin allows you to connect with home buyers on a national level, interacting and following up with leads generated on Facebook and turning the quality lead into a family success story.
Social Media can built trust by using the power of marketing through friends and family. Effectively using Facebook as a marketing tool will increase your productivity and make you stand out from your competitors.
Our affordable Facebook IDX system puts your Multiple Listing Service on your Facebook Business Page. Visitors to your Facebook page will be able to browse listings, see photos, search listings on a map, and contact you through the IDX interface. The plugin adds a "Featured Homes" and a "Search Homes" tab to your facebook page. Visitors who contact you are automatically added into your IDX dashboard. The dashboard allows for daily "new listing notifications" sent to your clients, view their browsing history on your website, and interact with your clients on a professional level with your own branding. if you actively use TopProducer, the IDX dashboard can be configured to add leads to your TopProducer account.
Our standalone Facebook IDX solution is available for only $9.95/month and a low one-time $65 account setup fee. Click here to sign up for the Social media plugin or let us know if you have any questions about the product.